Not much is known to us about this wonderful artist in India and probably none at all to the generations from the past decade. On her 145th birth anniversary, Google pays a tribute to Gauhar Jaan with a beautiful doodle. The illustration by Aditi Damle shows Gauhar Jaan with her cat and a gramophone behind.
If you looked at it and wondered who this person is or why Google dedGoogleicated a doodle to her, here's your chance to discover a hidden gem of the musical world.


Appointed as the court musician in 1887 in what today is Bihar, Gauhar Jaan was one of the first singers and performers to have recorded music on the 78rpm records in India. Her name would make you feel that she was born into a Muslim family in north India but don't be surprised if I tell you that she was of Armenian descent and born as Angelina Yeoward on 26th June 1873 in Azamgarh.
Her father William Yeoward was an Armenian who married her mother Victoria Hemmings, an Indian in 1872. The marriage didn't last very long and after her parent's separation, Victoria moved to Benaras with a Muslim friend and subsequently, both mother and daughter embraced Islam. Victoria became Malka Jaan while Angelina's name was changed to Gauhar Jaan.


Victoria was trained in Indian music and dance, and went on to become a noted artist in Benaras. A couple of years later, they moved to Calcutta where Gauhar began her Hindustani classical music training. She soon became proficient in Keertan and Rabindra Sangeet styles as well. She trained under stalwarts of the Patiala Gharana of music- Kalu Ustad, Ustad Vazir Khan of Rampur, and Ustad Ali Baksh. She also learnt Kathak from Brindadin Maharaj, grand uncle of Pt.Birju Maharaj.
Gauhar Jaan's first performance was at the courts of Darbhanga Raj and she was eventually appointed as the court musician. She began performing in Calcutta in 1896 and earned the title of 'First Dancing Girl' in her records. She performed in various cities across India, even being invited to perform at the coronation of King George V.
She was the first Indian artist to have her voice recorded in 1902 with the Gramophone Company. She has since then recorded many albums in multiple languages. She also composed Ghazals under the pen name Hamdam.
Towards the end of her life, she had moved to Mysore on the invitation of Krishna Raja Wadiyar IV and had also been appointed as the palace musician. But she passed away within a year and a half in 1930, at the mere age of 56.
When most artists were doubtful of lending their voice to records, she was the first to do it and proudly announce "My name is Gauhar Jaan" at the end of the records.

Her records, Bhajans, Thumris and classical pieces are a treat for music lovers.
'Gauhar'- Lillete Dubey's directorial, written by Mahesh Dattani is an English play that showcases the life of this renowned and bold artist.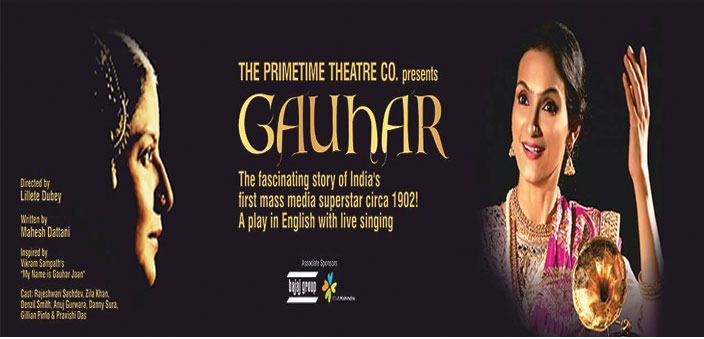 For those who are interested in the details of her life and work, the book 'My Name is Gauhar Jaan- The Life and Times of a Musician' by Vikram Sampath is a treasure trove too.